Whistler's Mother
Comments

0
77pages on
this wiki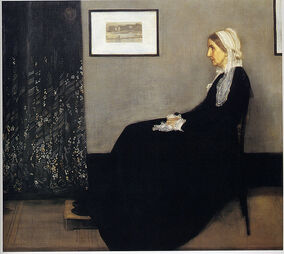 Whistler's Mother is a painting seen in the movie. The Museum is given a donation of $50 million dollers by General Armstron to buy the painting. Mr. Bean sneezes on it, tries to rub it off and discovers it turns a tad blue at the head. In shock, he takes it to the janitor's closet, and tries to remove the blue with Lacquer Thinner. After that the painting looks normal again, but when he puts the Lacquer Thinner back, the head looks all bubbly. In shock (again), he tries to rub it off again. He discovers that he has completely removed the head. As he takes the painting back to the room where it was before, David Langley (Peter MacNicol) sees that the painting has disappeared. He turns to Mr. Bean and asks where the painting is, so he shows him this: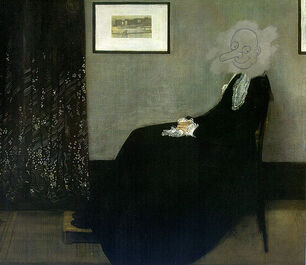 Fortunately later in the movie, we see the painting back to normal. Mr Bean breaks into the Museum the night before the painting is unveiled, uses David's Key to gain access to the painting, and replaces it with a poster, taking the original home.
Bean: So, what have I learned that I can say about this painting? Well, firstly, it's quite big, which is excellent. If it were very small, microscopic, then hardly anyone would be able to see it. Which would be a shame.