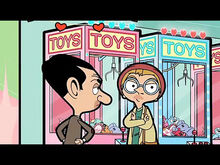 Valentine's Bean is the ninth episode of season 4 in the animated series.
Plot
It's Valentine's Day and Mr. Bean goes to Irma to give her a Valentine card. Irma works at a library, where she flirts with a man who works there. Mr. Bean gets jealous, and goes with Irma on a date. Right when Irma daydreams about a perfect date with champagne and fireworks, Mr. Bean gets her to a park,and gives her a snack.Irma gets mad and rushes away, to a place full of Valentine's day booths. She wants to try out everything, to the dismay of Mr. Bean, but when he sees the guy who flirted with Irma, he rushes with Irma in a fortune-teller booth. The fortune-teller shows them that they will win two tickets for a special Valentine's Day cruise. Mr. Bean rushes to buy a ticket to win the cruise for Irma's happiness, but, because of the wind, he loses it. After a long trip he gets back the ticket, but when he goes back to the park he sees Irma kissing with the male librarian. And at least, Mr. Bean get his tyrannosaurus back as they learned a lesson.
Trivia
Ad blocker interference detected!
Wikia is a free-to-use site that makes money from advertising. We have a modified experience for viewers using ad blockers

Wikia is not accessible if you've made further modifications. Remove the custom ad blocker rule(s) and the page will load as expected.