Welcome to the Mr. Bean Wiki

A wiki and encyclopedia about Mr. Bean, and there are 179 articles and 5,798 contributions have been made since February 28, 2009.
The 25th Anniversary of Mr. Bean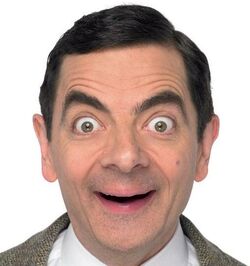 Mr. Bean has reached the grand old age of 25! He's one of the most treasured characters in TV history and a true comedy legend, with a massive following both in the UK and worldwide. Whether stuffing the turkey or preparing for a meeting with royalty, over the last 25 years he has kept us constantly entertained and in stitches. Happy birthday, Mr. Bean!

After first emerging in Rowan Atkinson's stage shows in the 1980's the Mr. Bean character was catapulted to first the small screen, and then the big screen. It first transmitted on ITV on January 1, 1990 as a collaboration between Atkinson, Richard Curtis and Robin Driscoll. With only 14 live-action episodes ever made, it was the most successful series of the decade and has been watched in over 190 countries worldwide. To date it has won numerous world-wide awards including a Golden Rose of Montreux, an International Emmy, two BANFF Awards and an ACE Award for best Comedy. Mr. Bean has also been transformed into an animated series and two feature films which Atkinson co-produced - Bean - the Ultimate Disaster Movie (1997) and Mr. Bean's Holiday (2007).
What's new on Mr. Bean Wiki
Infoboxes added
Edited the series pages
Creation of the minor characters
Creation of episodes
Addition of new episodes for season 4
Forum added
Helping out
To write a new article, just enter the title in the box below.
Staffs (Highest to Lowest)
Staff Request page is here.
Latest Blog Posts
Create blog post
Blogs
😀😅😇😍😋🤗😏😕😫😶😐😩🙁😒🤓😜😘🙂😂😃😄🤣🙃😗😝😎😞☹️😤😑😯😠😣😔🤡😛😙😉☺️😁😆😊😌😚🤑🤠😟😖😡😦🎃

Read more >
See more >
Ad blocker interference detected!
Wikia is a free-to-use site that makes money from advertising. We have a modified experience for viewers using ad blockers

Wikia is not accessible if you've made further modifications. Remove the custom ad blocker rule(s) and the page will load as expected.