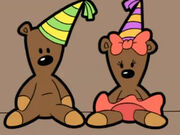 Lottie is a character in Mr. Bean.
Overview
She is Irma's teddy bear. She looks almost identical to Mr. Bean's Teddy, except she has eyelashes and a red bow. She is seen as Teddy's girlfriend, although Mr. Bean does not want them to be in a relationship. She only appears in the animated series.
Trivia
In the animated series episode Coconut Shy, it was the only instance Mr. Bean owned Lottie after getting it from the coconut shy tent which was destroyed after he was chased by the owner of the game tent, with few £10 notes as prize.
Ad blocker interference detected!
Wikia is a free-to-use site that makes money from advertising. We have a modified experience for viewers using ad blockers

Wikia is not accessible if you've made further modifications. Remove the custom ad blocker rule(s) and the page will load as expected.