Irma Gobb is Mr. Bean's girlfriend, played by Matilda Ziegler, appeared in a number of episodes. She appears as a librarian in the new animated episode (Valentine's Bean).
Mr. Bean met Irma Gobb at a local library. She is treated relatively inconsiderately by Bean, who appears to regard her more as a friend and companion than a love interest. However, he does become jealous when she dances with another man at a disco in "Mr. Bean Goes to Town", and she certainly expects him to propose to her on Christmas Day in "Merry Christmas, Mr. Bean", with his failure to do so resulting in her leaving him for good. She later appears in the animated series, which is presumed that Irma still loves Mr. Bean despite his being irresponsible. She also has one same trait of Mr. Bean, having a teddy bear (Lottie) even as an adult.
Notable events of Mr. Bean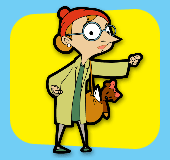 Home Movie
Valentine's Bean
All You Can Eat
Gallery
Ad blocker interference detected!
Wikia is a free-to-use site that makes money from advertising. We have a modified experience for viewers using ad blockers

Wikia is not accessible if you've made further modifications. Remove the custom ad blocker rule(s) and the page will load as expected.